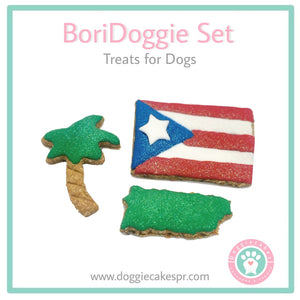 Treat your doggie to a taste of Puerto Rico with this BoriDoggie Dog Treats Set! They'll bark with delight as they sink their teeth into these doglicious, pawtastic homemade treats - each batch lovingly crafted. Perfect for all doggies, whatever their size! ¡Buen provecho!
Assorted Flavors 
Set includes all 3 cookies in the picture: Puerto Rico outline map, palm tree and Puerto Rico flag.
Ingredients:
Whole wheat flour, oats flour, eggs, organic peanut butter, water, tapioca. Additional ingredient varies depending on the treat flavor, and may include: parsley, parmesan cheese, bacon, salmon, cinnamon, vanilla, turmeric, fruits, vegetables and other dog safe proteins.
Our treats have no sugar, salt or any preservatives added.
If your pet has any allergies or medical conditions, consider consulting your veterinary prior to introduce anything to their regular diet.